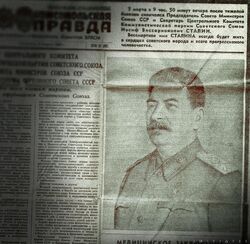 The following is an excerpt from a series of log entries from an Assassin lab in Protvino, outside of Moscow:
I've found mother's old journal. It's hard to believe that she was once so young and optimistic. I wonder if she would recognize the Brotherhood or the Academy today.
After Figatner's commission took over, wave after wave of punishments and condemnations crashed into anyone deemed "Anti-Soviet". Many people loyal to our cause, scientists and Assassins alike, were either killed or forced into hiding.
After the war, the Academy of Sciences was able to reorganize. They were freed of Templar influence, and the Assassins finally managed to poison Stalin, and make it look like a stroke.
We had hoped to return to our roots, but now our own Mentor is dead. Suddenly, we are aimless, without vision.
Without a strong leader, we are losing influence with our government, and funding is drying up.
I think I will continue to write in Mother's journal. It's comforting, and we need to find inspiration from the past to build that better future.
Community content is available under
CC-BY-SA
unless otherwise noted.