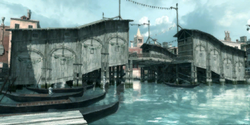 REBECCAC84: One of those strange glyphs Shaun mentioned is on this landmark. You should go find it!
The oldest, and the most famous, bridge in Venice, the Rialto is the dividing line between the districts of San Marco and San Polo. The bridge is notable not only for the size of its large arch, but also for its main walkway lined with shops and stalls, which was a vibrant strolling and meeting place for the community around it.
Contrast that with today's Rialto, where crowd of tourists fight over cheap knockoffs of Venetian glass while some idiot attempts to spit off the edge of the bridge onto passing boats. Ah, modernity.
Community content is available under
CC-BY-SA
unless otherwise noted.