This article is about the Animus 2.0 entry. You may be looking for the Animus Omega entry.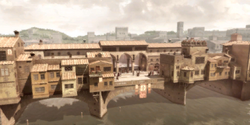 This famous bridge spans the Arno at it narrowest point. The original version was presumably constructed by the Romans, but the first written records only appear in 996.
Two previous incarnations of the bridge were swept away in floods before the present structure was built in 1345. A tower was built at the southeast corner to defend it.
The bridge consists of three segmental arches. It has always had shops lining the central passageway, a feature which seems extraordinary now, but was common during the Renaissance.
At first, butchers took up residence there, but over time they were pushed out by jewelers, souvenir shops and creepy teenagers chaining locks to the bridge's railing and throwing the keys into the river in a bid for eternal love, not realizing that the locks will be cut off later that day by disgruntled polizia.
Everlasting, indeed.
Community content is available under
CC-BY-SA
unless otherwise noted.