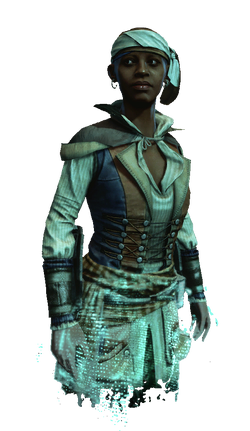 Born: 1768
Died: Unknown
The ironically impatient Patience Gibbs was born a slave in Newport, Rhode Island, but never truly accepted her own fate.
A fighter (Note: if prone to explosive rage… - ML) Gibbs could not accept that when slavery was banned in 1784, that minors such as herself would have to serve out their "contracts" until reaching the age of majority. She escaped her master, Dr. Edmund Judge, and led a small group of rebels to establish camp on Goat Island, where she kept them safe using perceptive abilities some branded as "magic".
Connor Kenway was the first Assassin to observe her potential, and dispatched Aveline de Grandpré to find and capture her, for brainwashing and training as Aveline herself had been as a young girl.
(Note: "Magic?" – What's that all about? – ML)
(Note: "Savagery," to the good Doctor Judge. – RL)
(Note: All words for Things We Don't Understand. Do more research. – DM)
Community content is available under
CC-BY-SA
unless otherwise noted.