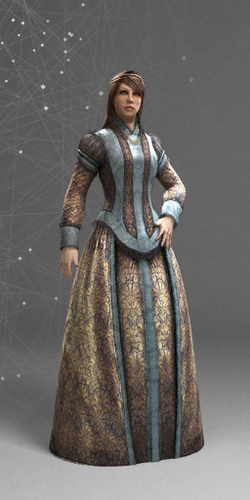 Date of Birth: 1476.
Profession: Wife.
Although she may look harmless, Pantasilea comes from a long line of fierce fighters. The Baglioni, rulers of Perugia, had been at war with the Oddi family for some time and skirmishes in the squares of the city became an almost daily occurence. At one point the cathedral was used as a barracks. In 1500, during the marriage of Astorre Baglioni, the Oddi attacked, killing the groom and several others. The Baglioni counter-attacked and several of the Oddi were murdered. The marriage party became a massacre.
Pantasilea was a product of that rough environment; she was smart, unafraid and tough. And, unlike her husband, she had tact.
Pantasilea was known for sharp strategizing: "Whenever that girl encounters resistance, like the waters of the Tevere, she changes course until she has that for which she came. Now she has you, may you both be better for it", wrote Doge Agostino Barbarigo after learning of Bartolomeo and Pantasilea's marriage in 1498.
Community content is available under
CC-BY-SA
unless otherwise noted.