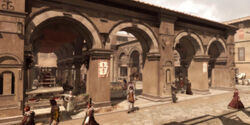 REBECCAC84: One of those strange glyphs Shaun mentioned is on this landmark. You should go find it!
The centre of Florentine business, the Mercato Vecchio served all the shopping needs of the city. To quote Antonio Pucci, a 14th Century Florentine poet: "Physicians dwelt around for every ill, And here were linen cloths, and flax merchants, pork vendors, and apothecaries."
The Mercato was established first in Roman times as the site of the Forum, and only in 1030 was first documented as a marketplace. Staple foods from the countryside, like grain, were the most popular goods sold, followed by wool.
However, if shoppers became bored with the basics, to quote a 15th Century poet, Il Panormita: "There halfway down the street stands a happy whorehouse which you will know by the very smell of the place."
Community content is available under
CC-BY-SA
unless otherwise noted.