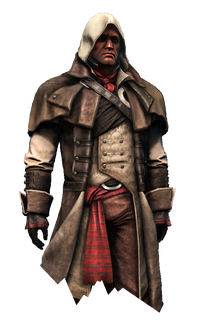 Born: 1726
Died: 1760
Liam O'Brien was born in Plymouth, Massachusetts, to Irish immigrants. After years of struggling to survive on a farm, the family moved to New York where his father began to work for a rich merchant, loading ships bound for England. Liam eventually joined him, and it was there he first met a young boy named Shay Cormac, who was visiting his father in the merchant marine. The two boys became friends and Liam looked after the younger boy, who lived in a rough neighborhood, and was showing a talent for getting into trouble.
As Liam continued to work, he was shocked to learn that despite all the profits made by their employer, the employees remained underpaid and mistreated. Tensions rose between the two sides. In 1736, Liam recruited a few of his young co-workers to begin robbing their employer. However, he was caught and was forced to kill a man in self-defense. In order to protect his son, his father took the blame for the murder and was executed by the authorities.
Lost, Liam drifted from one job to the next, distancing himself from everyone he knew, including his young friend Shay. He kept on robbing New York's richer citizens so he coul send money to his mother, whom he was too ashamed to face.
In 1738, he met Achilles, who began to give him small tasks to perform, such as delivering messages to a Wolastoqiyik man named Kesegowaase in the frontier. Achilles' influence grew on him. He began to look up to the man who finally managed to teach him about right and wrong, and eventually, the Assassins and their Creed.
In 1743, Liam became Achilles' first mentee, and quickly learned from him. Liam helped Achilles recruit the remainder of his colonial Brotherhood: Chevalier de la Vérendrye, Kesegowaase, and Hope.
In 1748, Liam found his childhood friend Shay Cormac, whose life was shattered after his father died at sea. Liam helped him get back on his feet and the two became inseparable. Later that year, Liam introduced Shay to Achilles, and it wasn't long before his young friend joined the Assassins. Liam was tasked to keep an eye on the latest recruit.
Liam and Shay were close friends until the latter turned his back on the Assassins over the use of Precursor artifacts. Liam was instrumental in retrieving the artifacts for the Assassins, and managed to kill the high-ranking Templar George Monro in process.
Later, Shay killed Liam to take back the manuscript.