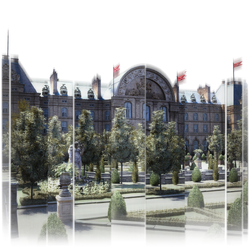 Both Henry IV and Cardinal Richelieu had previously attempted – in vain – to set up a hospital for invalid soldiers. Louis XIV, the "Sun King" solved the problem by taxing France's abbeys, and laid the first stone on November 30, 1671. Five years later, it was occupied by some 6,000 soldiers. In 1789, the Parisian mob stormed the hospital, seizing the cannon and muskets stored in its cellars for use in the storming of the Bastille. Some fifty years later, Emperor Napoleon Bonaparte would be entombed beneath the building's great, gilded dome.
Although today Les Invalides is primarily a museum, it still serves as a retirement home and medical center for roughly 100 elderly or injured veterans.*
--
* New veterans, of course. Not a hundred blokes from the 1780s who've somehow lived this long. That'd make it a hell of an effective hospital.
--
Community content is available under
CC-BY-SA
unless otherwise noted.