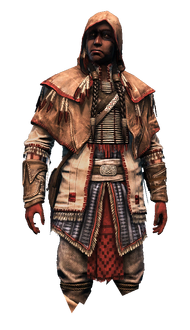 Born: 1730
Died: 1757
Kesegowaase was born in Wolastoqiyik territory in what is now New Brunswick. Until his teens, he lived in a walled village surrounded by farmed fields, where he practiced hunting, fishing, and various survival skills.
As European hostilities grew, Kesegowaase joined other men from his village as mercenaries helpting the French army. In 1746, he met Achilles and Liam O'Brien, who were working with the French Army on behalf of the Assassins. They were impressed with his prowess and determination and invited him to join the Brotherhood.
In 1749, he met Shay Cormac and became one of his instructors.
In 1757, Kesegowaase led troops against the English at the Siege of Fort William Henry. The English troops manning the fort had surrendered and negotiated terms that would allow them to retreat under the protection of a French escort. However, Kesegowaase and his troops ignored the terms of surrender and attacked the English prisoners, to ensure that the British soldiers would die. The violence was tolerated by Liam, who believed it helped accomplish Assassin goals.
(Hey Melanie! This story would make an awesome movie. -V.)
(It's been done already! -M.L.)
(What? When? -V.)
(1912, 1920, 1932, 1936, 1947, 1963, and 1992. -M.L.)
(Then we're about due for a remake, aren't we? -V.)
Kesegowaase was killed by Shay in Albany.