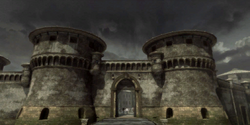 Founded in 798,000 B.C.E. by Palaeolithic cavemen who were interested in flint manufacturing, Forlì has been an industrial centre ever since. The name comes from the Romans (Forum Livii) who built the city in 188 B.C.E. along the Via Aemilia, one of several rouds they laid after pacifying the Gauls in the region. After Roman rule, it went from Lombard hands into Church hands and then became an independent republic in 889, infuriating the Vatican, which spent the next 400 years trying to get it back.
On top of Rome's constant manipulation, Forlì had to deal with it steady stream of Goth, Byzantine, Lombard, and Frank marauders for the next few centuries, along with annual flooding, which was finally brought under control by diverting nearby rivers away from the city's center in 1050.
Like most independent republics, Forlì became a military dictatorship at the end of the 13th Century and then was passed to the Ordelaffi family, who, despite having a lion with its tongue playfully sticking out as a crest, were not all that cute or nice.
In 1480, with the Ordelaffi fighting amongst themselves over the chain of succession, the Pope stepped in and gave the city to his nephew, Girolamo Riario. But things didn't really go as planned for the Pope: when Girolamo was killed, the city passed to his wife, Caterina Sforza, the Amazon of Forlì, who fought tooth and nail to prevent the Vatican from taking control. Ultimately, however, Caterina was vanquished and Forlì passed into Church hands.
Community content is available under
CC-BY-SA
unless otherwise noted.