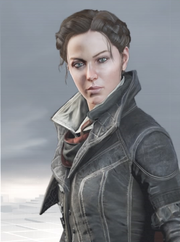 Date of Birth: 9 November 1847.
Evie Frye was born four minutes before her brother, Jacob, and she never let him forget it. She was fierce from the moment she gasped and kicked her way into life, shattering the peaceful silence of a gracious country home.
Jacob and Evie's mother, Cecily, died in childbirth. She was the only daughter of an English steelworks manager based in the Rhondda valley in South Wales. Her mother was of Welsh stock. Their father, Ethan, accepted his mother-in-law's offer to raise the children until the age of six. He then took charge of their upbringing at his home in Crawley.
Her father raised Evie and her brother to join the Assassin order. It was a dangerous time for the Assassins in England, as the Templars tried to extend their stranglehold on London to the surrounding countryside. Evie was studious and technical - she gravitated toward the more theoretical and organisational parts of the organisation. She specialised in research, with a side interest in Pieces of Eden.
Ethan instilled in his children a strong sense of social duty - the idea that the Assassins should help the people be free, rather than solely act as agents to take down oppressive forces. While Jacob rebelled against his father's schooling, Evie relished his lessons. His teachings became a cornerstone of Evie's personal creed. Her first assassination was a mill owner who was abusing and refusing to pay his staff. The incoming owner - a member of the Brotherhood - improved conditions greatly.
Evie is valued among the Assassins for her thoughtful planning, her ability to solve problems, and her ability to see the human side of any equation.
Community content is available under
CC-BY-SA
unless otherwise noted.