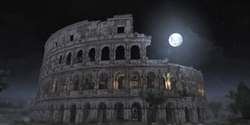 REBECCAC84: A set of the coordinates Shaun took from Subject 16 converges on this landmark. Maybe you should check it out?
Constructed from 72-80 C.E. under Emperor Titus, the Colosseo held up to 50,000 spectators and is considered one of the greatest architectural achievements in Roman history. The majority of the shows, be they gladiatorial, dramatic or otherwise, were privately funded by rich families to demonstrate their opulence, creating spectacles that were universally adored by the people of Rome. Unfortunately, a massive earthquake in 1349 caused large-scale irreparable damage and the Colosseo was left to ruin.
In the mid-16th century, Pope Sixtus V wished to make use of the remaining shell and resolved to convert the structure into a giant wool factory to provide employment for Rome's prostitutes. Sadly, the Pope died before his brilliant idea could become a reality.
Community content is available under
CC-BY-SA
unless otherwise noted.