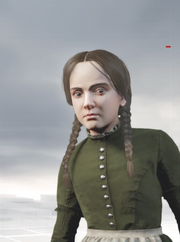 Date of Birth: 24 February 1856.
Born in 1856, Clara was the only child of the less-fortunate O'Dea family. Like many Irish women, Clara's mother was an indentured servant to an upper-class household in the Strand.
Sneaking into the family's private lessons, Clara picked up as much as she could, devouring the education her parents could never afford to give her. Unfortunately, after being wrongly accused of theft, Clara's mother was dismissed from her job and was forced to find other means of survival.
By the time she turned ten, Clara had become the sole breadwinner in her household. Her father having left the family a year prior, and her mother bedridden and sick with grief, Clara took to the streets to support what little family she had left. The orphaned children with whom she found kinship gave her a sense of belonging that she had never experienced before.
Courageous and charismatic, Clara, now orphaned herself, has grown up to be a remarkable young business woman and today helps provide for children in need.
Community content is available under
CC-BY-SA
unless otherwise noted.