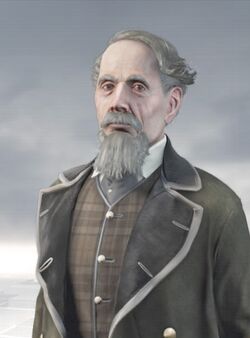 Date of Birth: 7 February 1812.
A celebrity during his lifetime, Charles John Huffman Dickens remains one of the largest sources of information regarding nineteenth-century London. Known for being both a literary titan and an activist, Dickens's work showcased the life and personalities of London's working class people.
(If you ask around in London pubs that still exist today, most report that he was a regular. Imagine being a regular at EVERY. SINGLE. PUB. That takes dedication. -RC)
My favorite contemporary criticism of Dickens would have to be: "Mister Dickens, as in revenge for his own queer name, does bestow still queerer ones upon his fictitious creations."
Dickens was born in Portsmouth, the second of eight children. He was said to have an idyllic childhood up until the summer of 1824, when his father, John Dickens, was arrested for debt and thrown into Marshalsea Debtor's Prison - with his family in town. To help pay off his father's debt, Charles was forced to leave school and begin work at Warren's Blacking Warehouse, a place that was notorious for its poor treatment of children. Not a crèche to be seen. Yet even after his father's debt was cleared, young Charles's mother suggested he continue to work: "I never afterwards forgot, I never shall forget, I never can forget," he said, "that my mother was warm for my being sent back."
Once free of the warehouse, and after attending school, Dickens got a job at the law office of Ellis and Blackmore. Living in the city, he attended the theatre religiously and, inspired by the stories spun on the stage, began his writing career.
Dickens of course went on to be world-renowned for works, including Oliver Twist, A Christmas Carol, and Great Expectations, and his success as a writer continued throughout his life, with even Queen Victoria calling herself a fan. Perhaps less well-known, however, is Dickens's powerful interest in the supernatural, which eventually saw him become part of Cambridge's Ghost Club, an organization of paranormal investigation and research.
One of the biggest controversies surrounding his life was his extramarital relationship with Ellen Ternan, a young theatre actress with whom he remained until his death. Ternan and Dickens kept their affair a secret, destroying their entire history of correspondence in a bonfire nine years into their relationship. In June 1865, Dickens was involved in the Staplehurst rail crash, but despite quite heroically helping to rescue other victims, he refused to speak at the accident's inquest to avoid having to disclose that he had been travelling with Ternan and her mother.
Between 1868 and 1869, Dickens gave a series of farewell readings in England, Scotland, and Ireland. During this time, he also began work on what would be his final and only unfinished novel, The Mystery of Edwin Drood.
In June 1870, after a full day's writing, Dickens suffered a stroke died the next day (coincidentally, the fifth anniversary of the Staplehurst crash). He was buried in the Poet's Corner of Westminster Abbey.
Community content is available under
CC-BY-SA
unless otherwise noted.