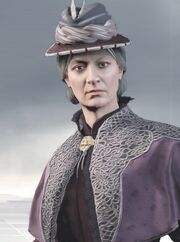 Date of Birth: 6 January 1812.
Standing beside her husband, Catherine's Gladstone's life was not quite as public. Her father having died when she was only three, Catherine and her siblings (Mary and Stephen) were raised by their mother. Catherine and Mary grew to be extremely close, getting married on the same day at the same venue, and Catherine acting like a mother to her children when Mary passed away in 1857.
Catherine met William Ewart Gladstone through her brother in 1834 and the two "Great People" (as Mary had called the couple) married in 1839. The couple were together for fifty-nine years before Gladstone's death in 1898, and had eight children together.
Though notoriously untidy, Catherine was a brilliant woman who devoted her life to improving the lives of others.
Community content is available under
CC-BY-SA
unless otherwise noted.