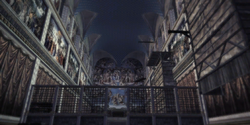 Inspired by the architecture in Solomon's Temple, the Sistine Chapel is the most famous room in the Apostolic Palace (the Pope's Vatican residence). The Chapel's famous ceiling frescos did not exist yet in 1503, so no climbing across the finger of God, but the wall paintings that line the chapel painted by Pietro Perugino, Sandro Botticelli and Domenico Ghirlandaio, among others, are ample consolation prize.
As the Pope's personal chapel, mass is frequently held inside, as are the Papal Conclaves, which occur after the Pope's death. The cardinals are locked inside the chapel and are not permitted to leave until a new Pope is elected. Only through smoke signals, sent up a chimney to announce the new Pope, can they escape.
And worst of all horrors, no cardinals (unless ill) can be attended inside by more than one servant. That's just cruel!
Community content is available under
CC-BY-SA
unless otherwise noted.