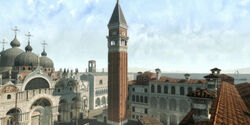 REBECCAC84: One of those strange glyphs Shaun mentioned is on this landmark. You should go find it!
Originally built as a watchtower in the 9th Century, the Campanile di San Marco was later transformed into a bell tower. Each of the five bells has a special purpose: one announces the Senate, another announces midday, a third the opening and closing of the work day, the fourth council meetings, and the fifth and final bell: Executions.
Community content is available under
CC-BY-SA
unless otherwise noted.