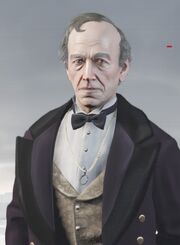 Date of Birth: 21 December 1804.
A novelist, a dandy, and a man practiced in law, Benjamin Disraeli, albeit surprisingly, came to be one of Europe's leading statesmen.
The first and thus far only Jewish-born Prime Minister of England, Disraeli became famous for shaping the modern Conservative Party and for his feud with William Ewart Gladstone.
Disraeli was born in London in 1804, to Isaac and Maria D'Israeli. When Benjamin was twelve years of age, Isaac converted his family to the Anglican Church following a dispute with the local synagogue. Later, Benjamin would further anglicize his name from D'Israeli to Disraeli when he went to work for Maples's law firm in 1821, though his exact motivations are unknown. Possibly he got fed up of spelling it out for people.
Before entering the House of Commons, Disraeli dipped his toe in the waters of both literature and the stock exchange. He was fortunate that it was only his toe, too, because when he found himself both a critical failure and massively in debt he suffered a nervous breakdown. Still, despite it all, he finally found his way into parliament in 1837, gaining a seat in the Conservative Party. It was during this period that he forged his lifelong rivalry with Gladstone.
In 1839, Disraeli married Mary Anne Lewis for what was thought by many to be financial reasons, but the couple at least grew to love each other and remained bound until her death in 1872. "Dizzy married me for money," Mary once stated. "But, if he had the chance again, he would marry me for love."
Disraeli became Prime Minister for the first time in 1868, but failed to win that year's election. He led the opposition to majority once again in 1874, becoming Prime Minister for a second time with a reign lasting six years.
Suffering from gout and severe asthma, Disraeli died in 1881. Queen Victoria, with whom he had made good friends over the course of his political tenure, was distraught by his passing, but, due to the royal protocol, was forbidden from attending his funeral.
Community content is available under
CC-BY-SA
unless otherwise noted.