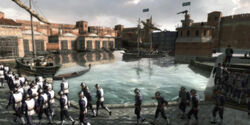 First built as a naval depot for private ships, the Arsenal was rebuilt and enlarged in 1320. From that point on, it was used by the Venetian state to construct and maintain its ships. Famously, at the peak of production, shipbuilders were able to produce an entire ship in a day. The impressive front gate (the Porta Magna) went up in 1460, in the Classical revivalist style.
It looks like Silvio Barbarigo was not the first Templar to control the Arsenal. According to my research, the 1320 renovation was paid for with Templar funds and they seem to have had an established base there ever since.
Community content is available under
CC-BY-SA
unless otherwise noted.