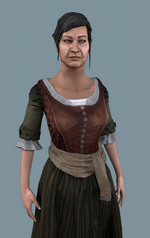 B. 1730
Amanda Bailey was a well-known and well-liked innkeeper in Martha's Vineyard around the time of the American Revolution.
She was born in North Carolina in 1730, the eldest of a large family. Her mother died when she was 14, leaving young Amanda to work and help care for her younger brothers and sisters alone.
Amanda first crossed paths with Robert Faulkner when she was a teenager - he was working for the United Company of Merchants, she was a bar maid - clearly a recipe for romance. They exchanged letters - I suppose it was the texting of its day - which stopped when Faulkner disappeared from Halifax to join the Assassins. Sad face.
Despite reports that Faulkner had fallen overboard and was dead, Amanda felt that he was still alive - somewhere - and after several years she went in search of him. (Possibly so she could give him hell for abandoning her - but I'm speculating.) She never found Faulkner, and eventually settled in Martha's Vineyard, taking a job working in a local inn - which she later purchased.
Amanda had a born talent for leadership and organization. She was responsible for setting up the first school in the area - not to mention advocating for improvements to the docks to bring in more business. Her inn was a hub for gossip during the Revolution, particularly if you wanted the latest in ship movements. It will probably come as no surprise to you that she was a spy for the Patriots - but that's only been publicly known since 1919 when a box of her personal correspondence was found, including some coded notes in Benjamin Tallmadge's handwriting.
Community content is available under
CC-BY-SA
unless otherwise noted.