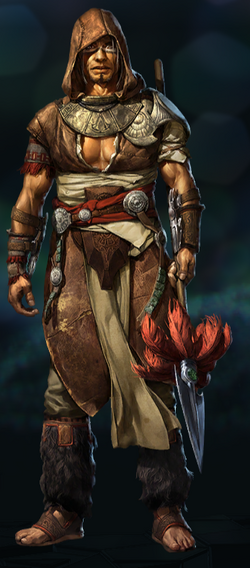 Date of Birth: 1660
Profession: Assassin Mentor
Named for the Mayan god of hunting, Ah Tabai's given name remains a mystery, and very little is known about his earliest decades. We are still searching for a direct descendant, but fear this will be impossible – the only child he is known to have fathered died before the age of ten.
As a native Mayan himself, rumors and stories of the ancient Observatory were not foreign to Ah Tabai. So, in 1713, rumors of a new "Sage" began to surface. Ah Tabai took it upon himself to locate this man for himself, believing the Assassins should be the protectors of this ancient and mysterious place. Ah Tabai sent word far and wide, to as many Assassin outposts as possible, hoping their network of spies and informants would lead them to their prize. But after two years, there was no word.
Then, at some point in early 1715, an experienced British Assassin named Duncan Walpole arrived at Ah Tabai's encampment, initially expressing a desire to train under the Mentor directly. Ah Tabai found the request odd but flattering, for Walpole had already achieved a level of Mastery few assassins ever reached. But after many months of intensive training, Ah Tabai came to consider Duncan Walpole as one of his most trusted colleagues.
It was only after Edward Kenway's disastrous meddling in Havana that Ah Tabai was made aware of the full extent of Walpole's betrayal.
Community content is available under
CC-BY-SA
unless otherwise noted.