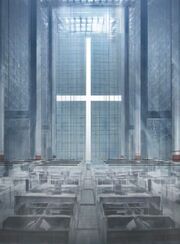 In 1910, a group of Templar leaders assembled with a bold plan for the Order's future: To capitalise on the unprecedented progress of science and technology brought about by the Industrial Revolution in order to expand their already considerably influence on the world.
This plan culminated in the creation of Abstergo Industries in 1937. It began as a modest little front company so that the Templars could accumulate wealth. After World War II, prominent Templars in government and industry helped it grow into a monstrous conglomerate with offices, laboratories, factories, and other facilities all over the world. In addition to their holdings in other major companies, Abstergo has a presence across all corners of industry, including pharmaceuticals, information technology, agriculture, energy, manufacturing, even entertainment production.
To secure the Templar's control over the world, a great majority of Abstergo resources are devoted to locating and acquiring Pieces of Eden. Most of you know the company from its painkillers, or fitness trackers, or, more recently, its virtual entertainment features. Perhaps a handsome man served you a tasty coffee there sometime. But what you may not realize is that they also like to build things like satellite arrays designed to control your mind.
The vast majority of Abstergo's employees are not, in fact, Templars, but rather honest folk just trying to make a living. Individually, any one fact of Abstergo's business looks rather harmless, but taken together, Abstergo is the noose around the neck of the free world.
In fact, that'd make a pretty good slogan for them, if they're thinking of printing any t-shirts or anything.
Community content is available under
CC-BY-SA
unless otherwise noted.