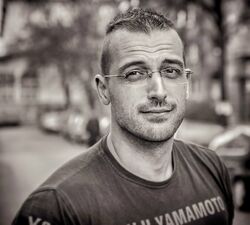 Daniel Atanasov (born 25 October 1979) is a Bulgarian comic artist also known under the pen name Satanasov. Currently a concept artist at Ubisoft Sofia, he has worked as a storyboard artist, freelance illustrator, art director, animator and comic artist for various companies and publishers.
Biography
Born in Yambol, Atanasov possessed an interest in comics, illustration, animation and art in general since childhood. Studying drawing in high school from 1993 to 1998, he then enrolled at the University of Veliko Turnovo, where he specialized in Illustration.[1]
Atanasov has been working as a comic artist since 1999, having published his manga-inspired work in magazines like Fantasy Factor, DAGA, Egoist, Q-Tech and Djoben Komix. Among his creations are Virikonium, Bion, Bonzai, Shaman, Element, Dragonlast and the webcomic Chisuji. Atanasov also made a short movie based on Bonzai in 2013.[2] His contributions to the Assassin's Creed franchise have largely consisted of storyboards and character concepts.
Since 2014, Atanasov, along with Diana Kalugina has been part of Ardeo Art, an agency that aims to gather illustrators, animators, photographers and other individuals active in the field of visual arts.[3]
Games credited
Gallery
Assassin's Creed III: Liberation
Assassin's Creed: Rogue
References
External links
Community content is available under
CC-BY-SA
unless otherwise noted.