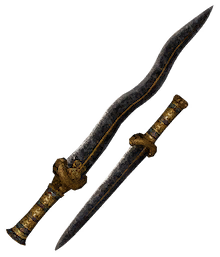 The Daggers of Tutankhamun were a pair of daggers made of meteorite ore for Tutankhamun, a pharaoh of Egypt during the Amarna Period. After the pharaoh's death, the daggers were buried in a cave located far away from the Valley of the Kings, where Tutankhamun was buried.
It was eventually recovered by the Hidden One Bayek of Siwa alongside Kanika, an Egyptian scavenger.[1]
Weapon statistics
Rarity
Quality (Max Level 55)
Damage (Max Level 55)
Attributes
Availability
Legendary
121
517
Adrenaline Regeneration II
Critical Hit Damage IV
Health for Critical
Complete National Treasures
Description
Horus sent metal to aid the boy king, so he may restore the sovereignty of all the gods. He fashioned twin blades from the ba-en-pet. Forged in the dying embers of the Sun Disk.
Behind the scenes
A meteoric iron dagger similar to these was found by Egyptologist Howard Carter in Tutankhamun's tomb in the Valley of the Kings. However, it appears to be a a mix between these two, with a simple straight blade affixed to a less adorned hilt. While one of the blades is cast or hammered into shape, the other looks rather like it was knapped from flint.
Gallery
Appearances
References
Community content is available under
CC-BY-SA
unless otherwise noted.