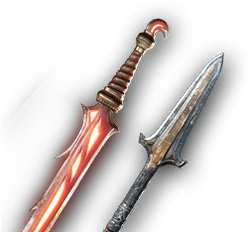 The Dagger of Kronus was a dagger inspired by the tale of the Titan Kronos castrating and deposing his father Uranus.
During the 5th century BCE, the dagger was used by the elusive Sage of the Eyes of Kosmos branch of the Cult of Kosmos, Nyx the Shadow, during the Peloponnesian War. After defeating her, the Spartan misthios Kassandra claimed the dagger for herself.[1]
Weapon Statistics
Rarity
DPS (Lvl 99)
Default Engravings
Availability
Legendary
8257
+25% Warrior Damage
+30% Damage with Daggers
+40% Damage when Attacking from Behind
Eliminate Nyx the Shadow.
Description
In the myths, using this dagger adds insult to injury. In one slash, Kronus castrated and deposed his father, Uranus.
Behind the scenes
This dagger is one of the few places in Assassin's Creed: Odyssey where Greek names are romanized with a ⟨u⟩ instead of an ⟨o⟩.
Gallery
Appearances
References
Community content is available under
CC-BY-SA
unless otherwise noted.