I wanted to ask you something. Which is… what's your name?


The title of this article is conjecture. Although canon, no official name for the subject of this article has been given.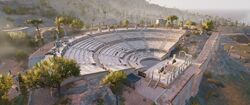 The Cyrene Theatre, also known as the Theater of Apollo was a theatre situated behind the Temple of Apollo in Cyrene.
History
In 47 BCE, the theatre was visited by the Medjay Bayek of Siwa, during his pursue of a killer. Arriving there, he discovered the body of Metrobius, a famed Roman actor, who had been murdered.[1]
Appearances
References