Fire Emblem Warriors: Three Hopes - The Loop
Play Sound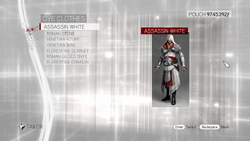 Customization is a mechanic in the Animus and the Helix.
Renaissance
Main article: Tailors
The Italian Assassin Ezio Auditore da Firenze could dye his clothing in the tailor shops located throughout the cities he visited, although the possible color schemes depended on which city he was in. Ezio could always switch back to the default Assassin white scheme for free, though after buying a dye, it would not remain unlocked. This meant that if Ezio wished to switch back to a dye after buying a different one, it had to be purchased again.[1][2][3]
In Rome, there were new dyes available, with each district, except for the Vatican, offering new colors. Also, instead of the colors always matching, both the outfit and cape could be dyed separately. In addition, the colors of Ezio's Assassin recruits could be changed, though once an Apprentice reached the rank of Assassino, the only dye that was available to them was "Assassin White". The cape's color would change accordingly to the dye it was last changed to before reaching Assassino rank.[2]
Constantinople also had new dyes to offer, though they did not vary from district to district, with all being available from any Tailor shop.[3]
British American Colonies
During the 18th century, the Kanien'kehá:ka Assassin Ratonhnhaké:ton was able to dye his clothes at the general stores found in Boston, New York and the Frontier. While he could buy all the dyes at every general store, the price would change depending on whether he was in the city close to where the dyes were made.[4]
Dyes
New York outfit
Baltimore outfit
Boston outfit
Jamestown outfit
Philadelphia outfit
Charleston outfit
French American Colonies
The French-African Assassin Aveline de Grandpré had access to various dyes, which could be used for the clothes of all of her three distinct types of clothing - the Assassin, Slave and Lady guises. These outfits could be dyed at any tailor shop, or in Aveline's hideout at her family's warehouse in New Orleans. In addition, Aveline possessed several pieces of headwear, which could be worn with her Assassin outfit.[5]
Dyes
Hats
Assassin's Hat
Assassin's Hood
Alligator Hunter Hat
Smuggler's Hat
Traveler's Hat
French Revolution
During the French Revolution, the Assassin Arno Dorian gained access to alter the color of his robes along with changing the design of the hood, coat, hidden blade, belt, and breeches/trousers. Despite access, Arno needed to either complete various tasks in order to obtain certain items or pay for them.[6]
Colors
Assassin Blue (Blue, Brown, Gray)
Utopia Blue (Blue, Sky Blue, Dark Blue)
Azure Hope (Blue, Dark Yellow, Black)
Uplay (Blue, Orange, Brown)
Tempest (Dark Turquoise, Vermilion, Cold Brown)
Turquoise Night (Blue, Light Blue, Brown)
Dark Woods (Green, Orange, Brown)
Emerald Regrets (Laurel, Blue, Dark Mustard)
Marsh Dweller (Green, Red, Blue)
Shiny Firefly (Orange, Yellow, Dark Orange)
Infinite Green (Dark Mustard, Green, Dark Brown)
Deep Forest (Green, Dark Green)
Darkest Alley (Black, Green)
Pure Shadow (Dark Gray, Black)
Peaceful Tales (White, Red, Dark Brown)
Brown Sands (Beige, Mocha, Brown)
Rainy Sky (Gray, Blue, Black)
White Eagle (White, Gray)
Beige Ghost (Beige, Red, Brown)
Amber Dawn (Dark Orange, Blue, Gray)
Autumn Leaves (Orange, Mustard, Brown)
Bright Plumage (Burgundy, Dark Yellow)
Wildfire (Red, Burgundy)
Fancy Man (Bright Orange, Dark Orange)
Sunset Valley (Vermilion, Green)
Winter Roses (Purple, Green, Brown)
Royal Purple (Purple, Dark Mustard, Brown)
Hoods
Chest
Forearms
Waist
Legs
Victorian London
During their stay in Victorian London, twin Assassins Jacob and Evie Frye had to change their attires once in a while to avoid suspicion from any Templars and local gangs. This includes their gauntlets, belts, capes, outfits once used by legendary Assassins, and dying their robes as well.[7]
Colors
No Colors (Default)
Beige and Blue (Beige, Gray Blue, and Salmon)
Ubisoft Blue (Ubisoft Blue, Gray Blue, and Violet)
Teal (Teal, Violet, and Mustard Yellow)
Beige (Beige, Violet, and Gray Blue)
Forest Green (Forest Green, Violet, and Terra Cotta)
Wine (Wine, Gold, and Muted Green)
Green (Green, Violet, and Gray)
Gold (Gold, Turquoise, and Terra Cotta)
Steel Gray (Steel Gray, Pink, and Dark Gray)
Black (Black, Pink, and Purple)
Violet (Violet, Woody Brown, and Grass Green)
Fuchsia (Fuchsia, Muted Green, and Turquoise)
Midnight Blue (Midnight Blue, Warm Gray, and Terra Cotta)
Crimson (Deep Crimson, Salmon, and Gray)
Gauntlets
Leather Gauntlet
Hardened Leather Gauntlet
Reinforced Gauntlet
Black Leather Gauntlet
Mirage Gauntlet
Iron Death Gauntlet
Assassin Gauntlet
The Devil's Handshake
The Chimera
The Legendary Gauntlet
Chronographic Piercer
Redback Gauntlet
Industrial Gauntlet
Royal Gauntlet
Nautilus Gauntlet
The Devil's Handshake
A Velvet Glove
Kiss the Hand
The Ripper's Terror
Seam Buster
Belts
Leather Belt
Initiate Belt
Rough and Tumble Belt
Dark Leather Belt
Adept Belt
Noble Assassin Belt
Thief Belt
Sassy Assassin Belt
Greenwood Belt
Crossroad Belt
Sanguine Belt
Metal Web Belt
Reaper Belt
Eagle Splendor Belt
Iron Scale Belt
Eagle Dive Belt
Black Death Belt
Spring-Heeled Jack Belt
Master Assassin Belt
Legendary Assassin Belt
Beer Collector Belt
Fisticuffing Belt
Iron Belt
Suave Belt
Belt of Good and Evil
Capes
Red Cloak
Thrifty Cloak
Hunter's Mantle
Black Jack Cloak
Orange Silk Cloak
Killer's Lace Cloak
Patchwork Cloak
Eagle Dive Cape
Lady Vignola's Cloak
Stormy Night Cloak
Cloak of the People
Light and Dark Cloak
Goldred Cloak
Flame Silk Cloak
Emerald Isle Cape
Lady Cyrielle's Shawl
Legendary Assassin Cape
Cloak of Victory
Royal Cloak
Aegis Cloak
Crimson Wing Cloak
Out Of The Blue Cloak
Country Cloak
The Count's Cloak
Cloaking Cloak
Trivia
The achievement Perfect Harmony could be earned by dyeing Ezio's outfit with Wetlands Ebony and then Wetlands Ivory dyes. The achievement's title is reference to Paul McCartney and Stevie Wonder's "Ebony and Ivory" song, in which the first line is "Ebony and Ivory live together in perfect harmony."
In Assassin's Creed II, a bonus dye could be obtained by entering a code provided with the mobile game purchased in the Verizon App Store. The dye is also included in Game of the Year edition, Digital Deluxe Edition of Assassin's Creed II and in the Assassin's Creed: Ezio Trilogy.
Even if the Armor of Altaïr, Armor of Brutus or the Armor of Ishak Pasha were dyed, the color of the robes would not change.
In Assassin's Creed: Revelations, "Caspian Teal" dye shares the same image with "Algerian Silver", despite the actual dyes being different.
In Assassin's Creed III, if the robes were dyed, they would revert to the original color during cutscenes. However, the color of some parts of the robes, such as the trim, would stay the same. This was caused by the fact higher quality models were used in cutscenes, which shared only some textures with the ones used during gameplay, hence the trim displaying the dye.
References