GTA: The Criminal Enterprises - The Loop
Play Sound
Crushed Dreams was a virtual representation of one of Eivor Varinsdottir's genetic memories, relived by Layla Hassan in 2020 through the Portable Animus HR-8.5.
Description
Eivor found a man crushed beneath a giant rock pushed onto him by bandits.
Dialogue
Eivor discovered a corpse beneath a huge boulder, near some fishing nets.
Eivor: Crushed to death. An unlucky way to die. Doubt he felt much.
She found a letter and a delicate ring near the body.
A Love Letter:
To my dearest wife,

I know your patience has been tested, time and time again. I am the one to blame, and the fault is mine alone. For we were young, and I had begged you to marry me. I know in recent time that I have gone astray. The path of vice was the easiest to tread. But I see clearer now, without drink, without smoke.

Thank you for all that you have done... for your kindness, warmth, and for tending our stall in Picheringa. Happy Anniversary, my darling. I hope you like this gift.
A loud voice from higher up the mountain caught her attention.
Anglo-Saxon Soldier 1: Did you hear that sound after I pushed the rock?
Hearing the voice, Eivor went up the hill to investigate, finding a band of bandits standing over the edge where the boulder fell and crushed the fisherman.
Anglo-Saxon Soldier 1: That fisherman was asking for it. He should have paid his dues when we asked for them.
Anglo-Saxon Soldier 2: Yeah, to Hell with his sad Pickering love story and his homely fish-stall wife.
Anglo-Saxon Soldier 1: That reminds me, remember to go down and get that ring, eh?
Eivor went on to slay the bandits as revenge for the fisherman. She then went to Picheringa to locate the widow.
Hilda: A fishmonger can't sell week-old fish. Where's that husband of yours? Off fishing again?
Eivor approached the woman manning the stall, scaring off the customers.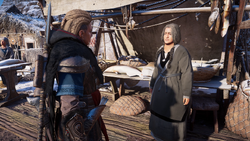 Eivor: Are you the wife of the man who fishes below the cliff?
Vera: My husband fishes there, yes, and I run the stall. Do you fancy some fine, fresh fish?
Eivor: I found your husband.
Vera: And where is that fool? Drunk in some bed? Working off a debt?
Eivor: Dead, I fear. Some bandits crushed him with a rock, hoping to fleece him.
Vera: No! Wh-why... that sweet fool, leaving me penniless...
Eivor: Here, take this ring. I found it on his body. It is rightfully yours.
Vera: His mother's ring! That fool, that damned, soft, loving fool. Thank you stranger. At least I have this.
Vera:
Marry, they said. Marriage has left me naught but a poor widow with nary a fish to sell.
Outcome
Eivor brought the news to the newly widow. She either returned the ring or kept it.
Gallery
References
Assassin's Creed: Valhalla memories