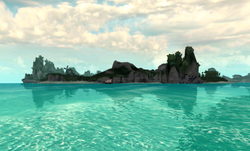 Cozumel is a small group of islands located in the Caribbean Sea along the eastern side of the Yucatán Peninsula.
Before the place was plundered and colonized by Hernán Cortés, Cozumel was inhabited by the Maya and dedicated to the worship of the moon goddess.
History
In 1716, the Portuguese pirate hunter Alvaro was searching in Cozumel for the escaped slave Jumao. However, Jumao had become a quartermaster aboard the ship of the pirate captain Alonzo Batilla. Alvaro demanded Alonzo to return the former slave, but Alonzo refused to hand his fellow comrade over, prompting conflict between the two.[1]
Gallery
Appearances
References
Community content is available under
CC-BY-SA
unless otherwise noted.