Raise a Floppa - The Loop
Play Sound
Counter-Propaganda was a virtual representation of one of Ezio Auditore's genetic memories, relived by Desmond Miles in 2012 through the Animus 2.01.
Description
Ezio Auditore came across a woman sporting bruises and cuts. Upon asking her what happened, Ezio found out that she was beaten by her husband, who had now become an agent of the Borgia, creating propaganda for Cesare. Ezio set off to kill him.
Dialogue
Ezio came across a wounded woman.
Ezio: Madonna...
Woman: Don't! Hasn't he hurt me enough?
Ezio: I will not touch you. What happened here?
Woman: Auguste. My beloved husband. He believes he owns this neighborhood.
Ezio: The Borgia have given it to him.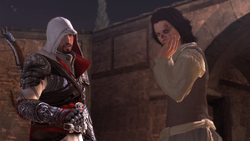 Woman: He once made signs for the shops in the district, but now he posts lies for the Borgia and hurts those who stand in his way.
Ezio: Like you. Where is he?
Woman: He spends his days locked in his workshop, but I may know how to goad him out...
Ezio: How?
Woman: Tear down the signs he has posted throughout the district. His pride won't stand for it!
Ezio: Grazie (Thank you).
Ezio tore down all of Auguste's signs. The man emerged from his workshop.
Auguste: Who has been tearing down my signs?
I want him dead.
Ezio assassinated Auguste.
Ezio: Requiescat in pace (Rest in peace).
Outcome
Ezio succeeded in killing one of the Borgia Templar agents.
Gallery
References