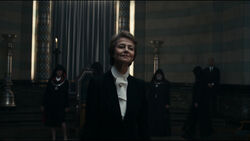 The Council of Elders is one of the guiding bodies of the Templar Order.[1] It operates as a separate entity from the order's governing structure to ensure and maintain the integrity of the Templar government itself by influencing and guiding of the governing structures, having a similar function as the Black Cross. It does not exert direct control over these structures, such as the Inner Sanctum.[2]
In the late 17th century, the Council tasked Laureano de Torres y Ayala with finding The Observatory in the West Indies.[3]
During the earliest years of the Black Cross, the Council may have had an significant impact on their assignments.[2]
In 2016, it is led by Ellen Kaye and possesses discretionary powers over the funding of Abstergo Industries and its various subsidiaries. The Council was present at a gathering in London during which Alan Rikkin was killed by the Assassins.[1]
Trivia
Appearances
References
Community content is available under
CC-BY-SA
unless otherwise noted.