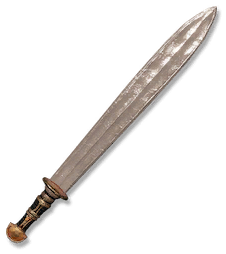 The Copper Sword was a 1st century BCE double-edged straight sword that was forged from copper and boasted an ornate hilt.
Description
As its simple name suggests, the Copper Sword was forged from copper, a metal that belied its durability. By 48 BCE, it had aged enough that a patina of verdigris had formed on the blade, yet its edges supposedly remained as keen as they were when it was newly forged. This blade in question was broad and widened further slightly as it moved upward until it reached the tip, where it then tapered to form a point. With the patina coating the blade, the sword may have appeared rather crude, but its original elegance was reflected by its untarnished, richly fashioned wooden hilt.[1]
History
In 48 BCE, the Copper Sword was found in Egypt, then under the rule of the Ptolemaic dynasty, by the Medjay Bayek of Siwa.[1]
Weapon statistics
Rarity
Quality (Max Level 55)
Damage (Max Level 55)
Attributes
Availability
Rare
115
519
Critical Hit Rate II

Combo Multiplier I

Blacksmith, Loot
Description
While the beauty of this sword is masked by a patina of verdegris, it's as sharp as the day it was forged.
Appearances
References
Community content is available under
CC-BY-SA
unless otherwise noted.