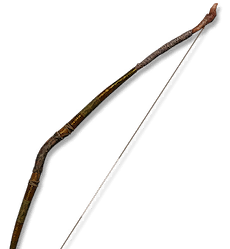 The Copper Arc was the classic predator bow of the Hyksos. By the 1st century BCE, Copper Arcs were considered quite ancient, but they nevertheless remained as effective as they were when they were first crafted millennia ago. For this reason, they continued to see common use throughout Egypt by the end of the Ptolemaic dynasty. During this period, some Copper Arcs were also adapted for desert use as the Desert Companion.
Weapon statistics
Rarity
Quality (Max Level 55)
Damage (Max Level 55)
Attributes
Availability
Common
Stealth Damage I
Blacksmith, Loot
Description
This classic Hyksos weapon may look antiquated but remains as deadly as the day it was made.
References
Community content is available under
CC-BY-SA
unless otherwise noted.