GTA: The Criminal Enterprises - The Loop
Play Sound
Confiscated was a virtual representation of one of Kassandra's genetic memories, relived by Layla Hassan through the Portable Animus HR-8.5.
Description
With Supideo's sword returned from Kosta the blacksmith, Kassandra was tasked with retrieving a shield which had been stolen by a bandit leader.
Dialogue
Kassandra walked up to the caged Supideo.
Kassandra: So, tell me about this shield.
Kassandra: Stolen? It's as good as gone then.
Supideo: I overheard mater and pater whispering about it. They mentioned a cave behind the Red Lake. Talked about the thief as if they know her.
Kassandra: Strange.
Supideo: Go to the cave, misthios. Bring me back my shield. Only then will my parents be truly safe from my fury. Find the cave near the Red Lake. The thief and the shield should be there.
Kassandra left Supideo and made her way to the lake.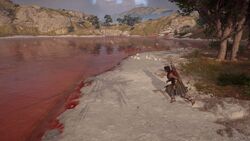 Kassandra: Time to find this thief. Supideo mentioned a cave beyond the Red Lake. Strange that his parents knew this. They should get the shield back themselves.
Kassandra found the Red Lake just past Xerxes Military Fort.
Kassandra: Looks like blood. I've had dreams of drowning in a lake just like this one.
Kassandra saw a camp further along the beach. Using Ikaros, she spotted the bandit leader inside a cave.
Kassandra stealthily moved toward the Red Lake Bandits camp and infiltrated the grounds.
Kassandra: This must be the cave. Perfect hiding spot for a thief.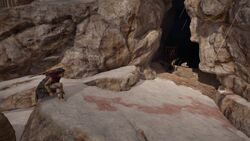 Kassandra subdued the bandits guarding the outer premises and positioned herself at the mouth of the cave, where she eavesdropped on Ailos talking to another bandit.
Rogue: If I see one more grain of salt, I'm going to kill someone!
Ailos: Patience. We're going to raid that stinking village once and for all, find a ship, and finally get off this salty wasteland.
Rogue: What about that old couple? The ones you stole the shield from? We should slit their throats and take whatever they have left.
Ailos: That family is off limits to you malákes! If either of you touch a hair on their heads, I'm going to cut off your hands and make you do push-ups in the salt.
Kassandra: There's my little thief.
Kassandra attacked the pair in the cave, swiftly eliminating the rogue before turning to fight Ailos. The two dueled on the beach until Kassandra killed Ailos and looted Supideo's shield from her corpse.
Kassandra: This shield should be enough to protect Supideo's parents from his deadly wrath.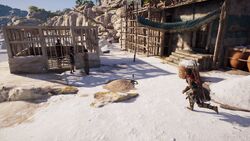 Kassandra returned to Supideo and his parents outside the cage.
Supideo: Misthios! At last! Did you find the shield?
Kassandra: I did. Now you can protect yourselves from... the prophecy.
Pedasos: So... you found the thief?
Kassandra: Oh yes. Cut her in half. She won't steal anything from anyone ever again.
Katina: And what about the blacksmith?
Kassandra: Oh, he's very much alive. We did things in the back of his workshop that would make Aphrodite blush!
Katina: You didn't.
Pedasos: This is awful.
Supedio: Mater, pater, what's wrong? You're safe—the prophecy's broken.
Katina and Pedasos stepped towards the cage.
Katina: Actually, there's something we've been meaning to tell you. Supideo, you were adopted.
Supideo: What?!
Katina: A young couple brought you to us. They knew we'd give you a better home. That sword and shield is your inheritance from them.
Kassandra: Wait, so the thief... and the blacksmith...
Pedasos: Are Supideo's birth parents. You killed his mater and fucked his pater.
Supideo: But the prophecy said pater would scream to the gods in agony.
Kassandra smirked as she remembered her tryst with Kosta.
Kassandra: He screamed. But not in agony.
Supideo screamed in horror at the revelation. Repulsed by the truth and the imagery it sparked in his mind, he immediately ran to the salt pits after being freed from his cage.
Supideo: You killed mater and had sex with pater!
Kassandra gave chase and attempted to apologize.
Kassandra: Supideo, I had no idea.
Supideo reached a salt flat and stopped, resting his hands on his knees as his mind seized on a grisly decision.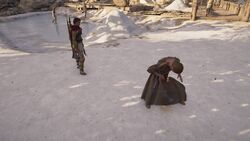 Supideo: I can't get the image out of my head. I don't want to see anymore!
Kassandra caught up to Supideo but could only watch helplessly as he put out his eyes.
Supideo: Aargh! I'm blind, misthios! Are you happy?
Before leaving, Kassandra spoke to Supideo once more.
Supdieo: My dreams are forever haunted. Mater will bleed. Pater will scream.
Kassandra:
He's fine. Could use a cold bath, but he's fine.
Katina:
Thank the gods!
Supideo: Thank you, misthios! You spared my parents from my wrath. Now, if you would release me.
Pedasos stepped towards the cage.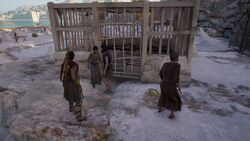 Pedasos: Actually there's something your mater and I have to tell you. Your parents are...
Katina swiftly interrupted.
Katina: Very happy to have such a caring son to protect us. Thank you, misthios. We're all fine now.
Kassandra turned to leave as Supideo was released.
Before leaving, Kassandra spoke to Pedasos and Katina once more.
Katina: It's best you left us alone. My son is very fragile.
Pedasos: I should have never let my son go to Delphi.
Outcome
Kassandra retrieved the shield and returned it to Supideo. However, his parents revealed the truth about his birth and Supideo realized to his horror that the Oracle's prophecy had been fulfilled despite his attempt to avert fate.
Behind the scenes
If players chose to ignore Kosta's advances, only XP and drachmae are rewarded for this quest. If Kassandra beds him, players will receive a blindfold, a piece of Epic headgear.
Despite claiming to have put out his eyes, Supideo's character model still retains both after his "blinding". Additionally, closer inspection of the liquid leaving his face reveals that it is not eye fluid but vomited corn kernels.
Gallery
References
Assassin's Creed: Odyssey memories