Collective Intelligence was a virtual representation of one of Ezio Auditore da Firenze's genetic memories, relived by Desmond Miles in 2012 through the Animus.
Description
Ezio returned to the Assassins Guild on Tiber Island, where he was updated with various reports from Bartolomeo d'Alviano, Claudia Auditore da Firenze, La Volpe and Niccolò Machiavelli.
Dialogue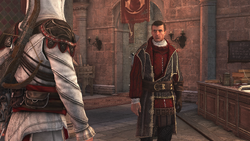 Ezio entered another room of the Guild, where the others were waiting.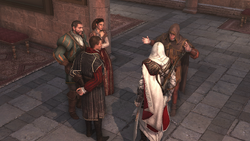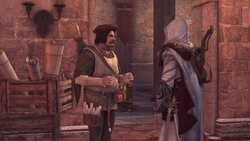 Ezio approached an architect within the main chamber of the Guild.
Outcome
Ezio learned about the locations of Cesare, Rodrigo, the Apple of Eden and Caterina Sforza.
References
Community content is available under
CC-BY-SA
unless otherwise noted.