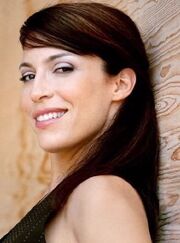 Claudia Ferri (born in Montréal, Québec, Canada) is a Canadian actress. She has appeared in TV shows such as Highlander, 36 Hours to Die, After Amy, and Naked Josh. She has also appeared in films such as 40 is the new 20, Dead Awake, and Killing Time.
In the Assassin's Creed series, Ferri provides the voice of Paola and her face to Maria Auditore in Assassin's Creed II as well as portraying her in Assassin's Creed: Lineage.
Assassin's Creed works
Assassin's Creed II (2009) – Paola, Maria Auditore
Assassin's Creed: Lineage (2009) - Maria Auditore
External links
Community content is available under
CC-BY-SA
unless otherwise noted.