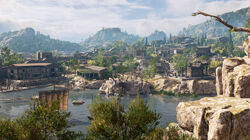 The City of Orchomenos was an ancient city-state located within the Lake Kopais region of Boeotia, Greece.
In antiquity, Orchomenos served as the capital of the legendary Minyans which formed a district of Boeotia. The Greek gods Zeus and Dionysos were widely worshipped there, with the former regarded as the city's protector. Its most famous sanctuary, however, was to a group of deities known as the Charites.[1]
During the Peloponnesian War the city was visited by the Spartan misthios Kassandra.[1]
Gallery
Appearances
References