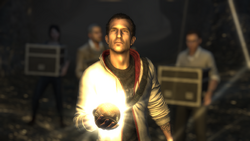 The term 'cipher' is a form of address used by certain members of the First Civilization to identify individuals integral to their plans. The term was used by Juno to address the Helix initiate,[1] and by Jupiter to address Desmond Miles while he was in the Synch Nexus.[2]
The First Civilization typically contact ciphers through the genetic memories of deceased individuals they view, such as those of Ezio Auditore da Firenze[2] and Lydia Frye.[1]
Behind the scenes
'Cipher' derived from the Arabic word for "zero", صفر, has a number of self-conflicting meanings including the aforementioned zero or a non valued entity but also any numerical or textual character as well as a system of encrypting text by transposition or substitution of letters. However the meaning most similar to the context used by the Isu is "a person or group of people without power, but used by others for their own purposes".
References