This article is about the island. You may be looking for the city.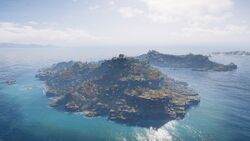 Chios is a Greek island located in the Aegean Sea. The capital of the island is the similarly named city.
Economy
The island is famous for mastic, the fragrant resin produced by the trees in the area.[1] Another product considered of exceptional quality is the wine produced on the island, available to wealthy citizens in places like Athens.[2]
History
During the 5th century BCE, the island was home to the Daughters of Artemis, a cult who worshipped the Greek goddess of the hunt, Artemis. The Spartan misthios Kassandra visited the island during the Peloponnesian War.[3]
In 1510, during his voyage to Masyaf the Mentor of the Italian Brotherhood of Assassins Ezio Auditore da Firenze had to stop off at the island of Chios after his ship faced a storm.[4]
Geography
The island of Chios was made up of three regions:
Gallery
Appearances
References
Community content is available under
CC-BY-SA
unless otherwise noted.