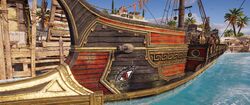 The Chimera's Breath was a naval weapon developed by an Achaian engineer c. 422 BCE. At its core, the Chimera's Breath was a front-facing flamethrower designed to burn and destroy an opposing vessel, named after the mythical creature.
Originally designed for use aboard the Skylla, flagship of the Tempest's fleet that was blockading Achaia, it eventually found its way onto the Adrestia when the Spartan misthios Kassandra convinced its creator to share his designs.[1] Once aboard the Adrestia, it was used against the Skylla to end the Order of the Ancients' blockade of the region.[2]
Appearances
References
↑ Assassin's Creed: Odyssey – Legacy of the First Blade: Shadow Heritage – Leviathan's Maw
Community content is available under
CC-BY-SA
unless otherwise noted.