GTA: The Criminal Enterprises - The Loop
Play Sound
Childhood Sweetheart was a virtual representation of one of Eivor Varinsdottir's genetic memories, relived by Layla Hassan through the Portable Animus HR-8.5.
Description
Eivor helped Birstan to look for his childhood love Alfida.
Dialogue
Eivor arrived in Maeldun to find Alfida and checked every house.
Eivor: Will Alfida remember a lover from so long ago? Would I?
Eivor saw a guard in front of the last house she checked.
Eivor: The last house in Maeldun. Alfida should be here.
Anglo-Saxon Soldier 1: We've got the woman we came for. Leave that lackbeard to lick his wounds.
Eivor checked inside the last house and saw food being roasted and unintended.
Eivor: Someone was interrupted preparing their supper. Taken? Or fled?
Eivor found a second bed in the household.
Eivor: A second bed. Alfida doesn't live alone.
Eivor looked outside the front door and found a note stuck with a knife.
Angry Plea:
Enough, Malden. No one enjoys high jinx more than me, but due to the number of oil-based fires, I cannot in good conscience allow unlimited access to such incendiary material. Therefore, all oil jars in the village have been collected and placed under lock and key. If you behave like children, you will be treated as such.

Yours in exasperation, Brother Thomas
Eivor looked outside and found a pail on the ground.
Eivor: A spilled pail of water. Someone was in a hurry.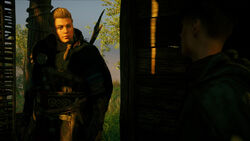 Eivor looked near the small structure outside the house and found a scared boy.
Eluric: Leave me be, warmonger! You have my sister, is that not enough?
Eivor: Peace, boy. I'm not with these men. I came to speak with your sister, that's all.
Eluric came out his hiding space as Eivor waited for him.
Eivor: What is your name?
Eluric: I'm Eluric, the man of this house. Who are you, and why have you come?
Eivor: I'm looking for your sister, at the behest of another.
Eluric: Behest? We got no money to speak of, and my sister is well past the marrying age.
Eivor: Do you know where they're holding Alfida?
Eivor:
Why did they take your sister?
Eluric:
Some of Aelfred's men beat a child of the village for stealing bread. My sister would not stand by and see injustice done.
Eivor:
Do you know where they're holding Alfida?
Eivor:
Do you know where they're holding Alfida?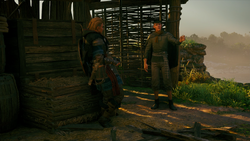 Eluric: Yet another stay at the king's pleasure. The prison camp at Brentwood. Far to the west.
Eivor: I'll bring her to the lake house north of there. Meet us there if you wish.
Eluric: If you promise you will find her, I will.
Eivor left and traveled to the Brentwood Outpost. Eivor neared a house, which encased Alfida.
Alfida: You would cage me like an animal? Cock-tossers, all of you!
Eivor: This must be Birstan's love, Alfida. They haven't broken her spirit.
Eivor tried to open the door but it was locked.
Eivor: I will need to find a key.
Eivor looked around for a key.
Alfida: Someone, please! These bollock-beards left me to rot!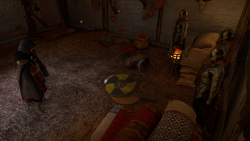 Eivor found the key on a guard and opened the door. Seeing Alfida injured, Eivor carried her.
Alfida: What ... what is this? You're not one of them.
Eivor: Stay quiet. I'm here to free you.
Alfida: I cannot walk. My ankle ... They were not gentle with me.
Eivor: Then I will carry you.
Alfida: Who are you, who risked so much to save me?
Eivor: A friend.
Alfida: Of Eluric's? Is he alright, the poor boy!
Eivor: Not your brother. Someone else who wishes to rekindle a ... a friendship.
Eivor carried Alfida to the Lake House.
Alfida: They beat me. My bones ache! My ankle! The pain! Gentler, please.
Eluric saw both women appear.
Eluric: Bless the saints! Here you are, Sister, safe and well!
Alfida: O my leg ... it pains!
Eivor let Alfida down on the floor.
Eivor: Rest now. Soon you will be up and about again.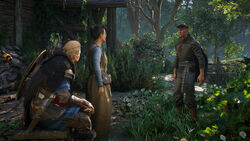 As time passed, Eivor lit the pyre and signaled Birstan while Alfida fully recuperated.
Eluric: Alfida! Did they hurt you?
Alfida: Takes more than some cockshy milksops to break my will. Beating a boy half to death for stealing bread? I'll not see it done.
Eluric: Growling bellies mean nothing to those pay-swords.
Alfida: Eluric, pay more mind to the world. It is cruel and dark for those who cannot stand up for themselves.
Eivor: Alfida, can we speak in private?
Eluric walked off.
Alfida: He is a good boy. But without a father to guide him, he's grown softer than I'd hoped.
Eivor: You raised him alone? Where were your parents when he was a child?
Alfida: Dead of the plague that came when he was three months born. Suiters shun your door when you have a babe on your teat. Now it's your turn. Why did you come for me?
Eivor: I am here at the request of Ealdorman Birstan. He wonders if you could love him again.
Eivor:
I found him cowering like a frightened pup near your house. He may need a firmer hand.
Alfida:
You would judge us? My parents died and left me alone with a babe when I was little more than a girl myself. Now speak plain. Why have you come for me?
Eivor:
I am here at the request of Ealdorman Birstan. He wonders if you could love him again.
Eivor:
I am here at the request of Ealdorman Birstan. He wonders if you could love him again.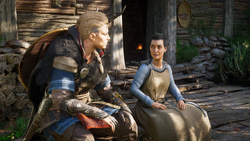 Alfida: Love him? Dear old Birstan, he remembers!
Eivor: He does.
Alfida: I've thought of him sometimes myself. But with my brother to fend for, I could not waste a life mooning.
Eivor: He has thought of nothing but you, Alfida. And with his wife Estrid returning to Francia, he sent me to find you.
Alfida: How it would work between me and him? I'm a poor woman, have been always. But the ealdorman ... O God, help me! I'll give him a go. How could I not, O bless!
Eivor: He'll come if you call. At the lighting of the bonfire, he'll ride here to meet you.
Alfida: Eluric, come you and sit with us. I have something to say...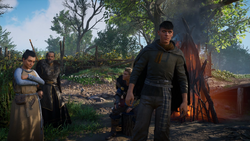 More time passed as Birstan walked in to meet Alfida, as Eluric and Eivor waited as well.
Birstan: My ... my apple-blossom girl! Is it really you?
Alfida: It is. Though crows have left their footfalls round my eyes.
Birstan: They still shine brightly, as when we were children. Has Eivor told you all?
Alfida: Aye, she has.
Birstan: And do you accept me, love? My heart feels like it will burst.
Eivor: Give her time, Birstan. A passion rekindled in haste will soon fall to embers.
Birstan: Of course! You are absolutely right. And we have a lifetime to recapture what was mislaid.
Alfida: I hope it will not take that.
Eivor: And this young lad is Eluric, Alfida's brother.
Eivor:
And this young lad is Eluric, Alfida's brother.
Eivor:
Now that you are reunited, what will you do?
Birstan:
Are we reunited? I must hear it from your lips, Alfida. It has been many summers, and I have aged ungracefully.
Alfida:
I will hear your wooing, Birstan. God help me, I have nothing to keep me in Maeldun.
Eivor:
And this young lad is Eluric, Alfida's brother.
Eluric:
Hello, Your ... Your worshipfulness.
Birstan:
I am Birstan, nothing more or less. And you are a fine, strong lad of ... how old?
Eluric:
Nineteen summers.
Alfida:
He's all the family I have, Birstan. If I'm to stay, you must welcome us both into your heart.
Eivor:
We have one half of our bargain done, Birstan. I will return with news of the other.
Eluric:
Does this mean we're leaving Maeldun?
Birstan:
You are, my boy. To live with me in Colcestre. Perhaps I can teach you the joy of the hunt!
Eivor:
Before you go, Eluric ... I'd suggest a long, slow walk around the lake.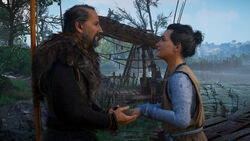 Eluric and Eivor left as Birstan and Alfida held hands in a loving manner.
Eivor: I should leave them to their reunion. The next piece of this drama is the kidnap in Colcestre.
As Eivor left, she overheard a brief conversation between the reunited lovers.
Alfida: Dear Birstan ... I cannot believe you would come for me after all these years.
Birstan: I never stopped thinking of you, Alfida.
Outcome
Eivor freed Alfida from Anglo-Saxon soldiers, as she took her to safety and allowed her to have a reunion with Birstan.
Gallery
References
Assassin's Creed: Valhalla memories