Where are the paintings?


This article is in need of more images and/or better quality pictures in order to achieve a higher status. You can help the Assassin's Creed Wiki by uploading better images on this page.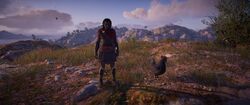 Chikaros (died 420s BCE) was the chicken companion of the so-called "Eagle Bearer", an impostor coasting on the reputation built up by the Spartan mercenary Kassandra.
Biography
Named after the real Eagle Bearer's avian companion, Chikaros was a friend to the imposter "Eagle Bearer". During the 420s BCE, Chikaros ventured into Alponos, Lokris, accompanying his master who had been paid to complete several tasks to the village. The "Eagle Bearer" however was in league with pirates and purposely did everything wrong to lower the village's defenses and also to tarnish the real Eagle Bearer's reputation.[1]
Kassandra, the real Eagle Bearer eventually confronted the Chikaros and the impostor and killed both.[2]
Appearances
References
Community content is available under
CC-BY-SA
unless otherwise noted.