This article is about the city in South Carolina. You may be looking for Charlestown, the city in Massachusetts.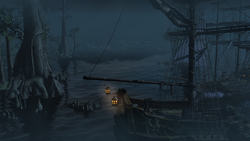 Charleston, previously known as Charles-Towne, is the oldest and second-largest city in South Carolina.
History
In 1718, the pirate Edward Thatch laid siege to the city for a week, holding several Royal Navy sailors hostage in exchange for medicines needed to save the people of Nassau. With lack of response from the authorities, Edward Kenway infiltrated Charles-Towne and stole the medical supplies, as well as the recipes for making additional doses, killing the governor, Wyatt, in the process.[1]
In 1776, during the American Revolutionary War, the Colonial Assassins aided the Continental Army in preventing the Royal Navy from capturing the city. Three years later, the Assassins returned to assassinate the Templar associate Hugh Jackson at the Battle of Stono Ferry.[2]
Appearances
Gallery
References
Community content is available under
CC-BY-SA
unless otherwise noted.