watch 04:21
Wiki Targeted (Games)
Play Sound
Charles Gabriel Sébastien Sivert, Baron de l'Espérance (1725 – 1791) was a Brigadier general in the French military, the colonial governor of Saint Pierre and Miquelon before his retirement in 1789, and a member of the Parisian Rite of the Templar Order. Serving as an advisor to Grand Master François de la Serre, he joined the exiled Templar François-Thomas Germain in overthrowing the former.
Biography
Early life
Sivert was born on 1 December 1725 in Louisbourg, New France. His father, Charles-Léopold-Ébérard de l'Espérance, was a lieutenant in the Swiss Régiment de Karrer. Like him, Sivert chose a career in the army, serving in New France and the West Indies. At some point, Sivert joined the Templar Order, and ran an artifact smuggling operation. Through this, he funded Grand Master Haytham Kenway's operations in the colonies, and was involved in a disastrous attempt to recover an unknown object.[1]
In 1748, Sivert freed the French naval officer Jean-Jacques Blaise d'Abbadie from British captivity through the Treaty of Aix-la-Chapelle. He then arranged for d'Abbadie to be employed in the naval bureaucracy to serve as his agent. Writing to the officer and revealing his involvement, Sivert nevertheless refused to reveal who he served, believing d'Abbadie to be "deeply stupid". D'Abbadie obeyed, and his position and prominence grew.[2]
Templar coup and death
By 1778, Sivert had become an advisor to Parisian Grand Master François de la Serre, along with Chrétien Lafrenière, Marie Lévesque and Louis-Michel le Peletier. Feeling underappreciated by de la Serre, Sivert joined the exiled Templar François-Thomas Germain's extremist faction of the Order along with Lévesque and le Peletier.[3]
Sivert was responsible for personally recruiting the Roi des Thunes and his enforcer Aloys la Touche into Germain's faction, after the former was denied membership by de la Serre. Germain tasked Sivert and the Roi des Thunes with killing de la Serre. On 5 May 1789, a party was held at the Palace of Versailles in honor of de la Serre's daughter, Élise, joining the Order.[3]
Sivert lured the Grand Master out to the palace gardens, where he assaulted him. However, de la Serre managed to fight off Sivert, wounding the latter's face and blinding his left eye. Nonetheless, the Roi des Thunes snuck up from behind and struck de la Serre with a poisoned pin crafted by Germain, killing him instantly. As the two Templars made their escape, Sivert called out to a guard and framed Arno Dorian, who had witnessed the murder of his adoptive father.[3]
On 4 January 1791, Sivert met up with a fellow Templar named Arpinon to smuggle stolen goods from the Conciergerie. After Sivert's departure, Arpinon was killed by the Assassin Pierre Bellec. Fortunately for Sivert, he was not a target of the Assassins.[3]
During the next day, Sivert was stalked by Arno, who had escaped imprisonment and joined the Assassins. Arno tailed the Templar to Notre-Dame, where Sivert was supposed to meet one of his accomplices, Duchesneau. Arno assassinated Duchesneau and snuck into a confession booth, where Sivert was supposed to meet his accomplice.[3]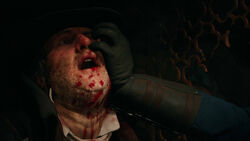 Posing as Duchesneau, Arno received information about he smuggling of the goods from the church, a more efficient source of obtaining funds than from the nobility. Once Sivert revealed all that he knew, Arno assassinated him with the Hidden Blade, by stabbing him in the cheek through the confessional window. Through Sivert's memories, Arno learned of the Roi des Thunes' involvement in de la Serre's murder. He also claimed the Templar's round axe as a trophy.[3]
Gallery
Appearances
References
Community content is available under
CC-BY-SA
unless otherwise noted.