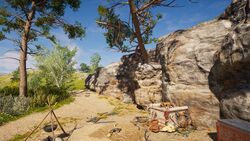 The Chariot of Hippolytos was the site of the chariot accident that led to the death of Hippolytos, the son of Theseus. It was located within the Sinkholes of Herakles in Argolis, Greece.
History
Myth
According to the story, Phaidra, Theseus' wife and Hippolytos' stepmother, had feelings for the boy that weren't mutual. After he rejected her, she told Theseus Hippolytos had violated her. In anger, Theseus invoked the god Poseidon to kill Hippolytos. Poseidon sent a sea monster, and while driving by the Aegean Sea, Hippolytos crashed his chariot, and died.[1]
5th century BCE
During the Peloponnesian War the site of the accident served as an altar, where people brought sacrificial offerings. A group of the Daughters of Artemis also set up a camp in the vicinity of the altar.[2]
At some point afterwards, the Spartan misthios Kassandra visited the location, freeing the Daughters' captive and claiming their treasures.[2]
Gallery
Appearances
References
Community content is available under
CC-BY-SA
unless otherwise noted.