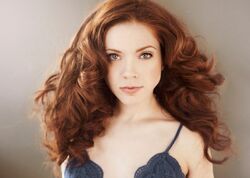 Catherine Bérubé is a Canadian voice actress. She provided the voice and motion-capture likeness for Élise de la Serre in Assassin's Creed: Unity.
Biography
Bérubé was born and raised in the town of Chambly, on the south shore of Montreal in Canada. At an early age, she discovered an interest in theatre, which she carried until high school. On the advice of one of her teachers, she began pursuing an acting career, taking up theatre at Dawson College. Subsequently, she graduated from the Professional Theatre program in 2004.
Bérubé then began stage acting, eventually being professionally hired by Geordie Theater Productions. She took the opportunity to perform across Quebec, New-Brunswick and Ontario and later landed in Montreal's acting community.
There, Bérubé worked on several theatrical productions, such as Shakespeare's As You Like It and Much Ado About Nothing. Bérubé then acted in Mainline Theater's Hedda Gabler, Johnny Canuck and the Last Burlesque. In addition to acting, she became the co-producer and artistic director for a French children's play called Capitaine Grosnez et le Secret Précieux.
With four years of experience on stage, Bérubé crossed over to television, immediately being cast in small roles for two mini-series. She later appeared in Sophie, Toute la vérité, 19-2 and Les Jeunes Loups. Bérubé has also starred in SRC's Pendant ce temps devant la télé, and the movie La vie secrète des gens heureux.
Assassin's Creed works
Reference
Community content is available under
CC-BY-SA
unless otherwise noted.