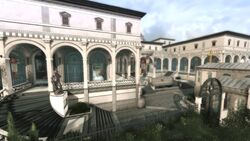 Castel Gandolfo is a small Italian town located in Lazio, south-east of Rome. It is well known as the summer residence of the Pope.
In 2012, it was used as a simulated training location by Abstergo Industries during the first and second stage of their Animi Training Program.
The simulation depicted what was most likely the Papal Palace of Castel Gandolfo, also called the Apolistic Palace of Castel Gandolfo. Like most prominent buildings constructed in the Renaissance, the palace was built entirely symmetrical.
The exterior consisted of a large open courtyard, with a rectangular fountain in the center, and winding stairs that lead into the palace positioned at the sides. The interior was richly decorated, with the main hallway boasting a large chandelier. Tents with performers were set up in several rooms, to entertain the visitors.
Castel Gandolfo was not programmed to have aesthetic variations. As a result, it could only be used during the day.
Gallery
</nowiki>
References
Community content is available under
CC-BY-SA
unless otherwise noted.