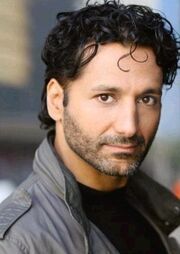 Cas Anvar is a Canadian actor who provided the voice of Altaïr Ibn-La'Ahad in Assassin's Creed: Revelations.
Biography
Anvar was born in Regina, Canada and raised in Quebec, and graduated from Montreal's prestigious National Theatre School. He has appeared in various major American films and television series, most prominently as Alex Kamal in The Expanse, as Sanjay Desai in The Strain, and as Dodi Fayed in 2013 biopic Diana, opposite Naomi Watts as Diana, Princess of Wales.
The fluently trilingual (i.e. English, French and Persian) Anvar, who credits part of his wide-ranging creativity to his exotic cultural and spiritual heritage, is a recipient of the Carla Napier Award for Achievement in the Montréal Theatre community as well as Alliance Quebec's Youth Achievement Award for accomplishments in the Arts.
Assassin's Creed works
Assassin's Creed: Revelations (2011) – Altaïr Ibn-La'Ahad
External links
Community content is available under
CC-BY-SA
unless otherwise noted.