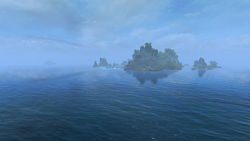 The Caribbean, also known as the West Indies, is a region consisting of the Caribbean Sea, its islands and the surrounding coasts. The Caribbean is located to the southeast of the continent of North America, east of Central America and north of South America. The West Indies were colonized by the British, Spanish, French and the Portuguese.
Its largest islands are Cuba, Hispaniola, and Jamaica, however, countless smaller islands dot the sea. As such, there were several shipping routes throughout the region, with hundreds of ships using them. The British Royal Navy, Spanish Navy, French Navy and the Portuguese Navy roved the waters, protecting these merchant vessels and occasionally battling each other.
The Spanish Navy and the British Royal Navy established many forts to protect the waters from enemy navies, as well as the pirates. These naval forts were captured by Edward Kenway, and by 1735, many were abandoned and in ruins.
During the late 17th and 18th century, at the height of the Golden Age of Piracy, the Caribbean islands and seas were home to numerous bands of pirates, including Edward Kenway. 
It was also one of the many bodies of water where the French and Indian War occurred between the British and French navies and their allies.
The islands were protected by a group of Assassins based in Tulum, on the Yucatán Peninsula. Later, they moved to the island of Great Inagua. Conversely, there was also a strong Templar presence in the region, operating mostly from Havana, Cuba.
Reference