Ezio, my friend! How may I be of service?


This article is in desperate need of a revamp. Please improve it in any way necessary in order for it to achieve a higher standard of quality in accordance with our Manual of Style.
"They had these tools, these powerful machines, that could predict possible futures. Not what was going to happen, but wha-what could happen... probabilities. And... well, they spent a lot of energy trying to decide what was the most likely scenario for the future. Theirs and ours."
―Desmond Miles attempting to explain First Civilzation calculations.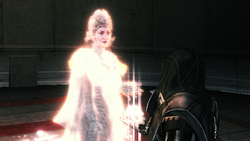 Minerva's calculations made the Isu proficient in the studies of alternate, future, timelines. From within the Nexus, Jupiter, Juno and Minerva worked to influence several individuals amongst humanity in the future to prevent the recurrence of a solar flare from devastating the planet after seeing one coming in their own near future.
Notable instances
Trivia
Darby McDevitt has stated that "Calculations" is the in-house term for parallel universes in the series, and added that Clay Kaczmarek went insane because he saw too many possible futures, in addition to the Bleeding Effect.[7]
Appearances
References
Community content is available under
CC-BY-SA
unless otherwise noted.